The report comprises a market data for 2016 and 2017, as well as a forecast to 2025. The global market for high power lasers for materials processing is expected to grow to USD 2.4 billion, up from about USD 1.5 billion in 2017. Fiber lasers have reached a share of nearly 70% in 2017. They are expected to defend that share in the future vs. the other laser types combined (CO2 laser, disk laser, direct diode laser). Please note that in the diagrams below the share of fiber lasers is constant between 2018 and 2025 (see logarithmic chart).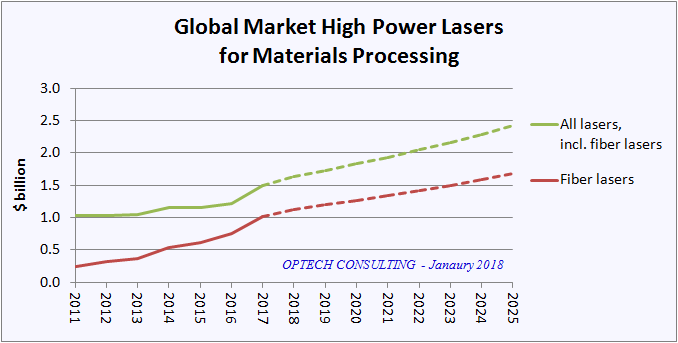 The Report HIGH POWER LASERS FOR MATERIALS PROCESSING Offers
- Market data with unmet detailedness
- 32 highly detailed market tables provide by far more information than any other report
- Accurate market data based on numerous expert discussions worldwide
- Market forecasts based on thorough understanding of technologies and applications
- Indispensable information for operative and strategic decision making, merger & acquisition analysis
Years Covered
- Base year of market data:
- 2017 (estimate)
- 2016 (final)
- 2015 market data for comparison
- Market forecast
- to 2025
- full set of data provided for each year in between
Details on Markets
- Highly detailed breakout of market data and market forecasts:
- Full cross segmentation by laser type and application for each year (2015 through 2025)
- Data segmentation first by application and then be laser type
- answering the question which laser type is used for a single application
- Data segmentation first by laser type and then by application
- answering the question which market segment is available for a specific laser type
- Laser types:
- Fiber lasers
- Disk lasers
- Diode lasers
- CO2 lasers
- Further information on power class for each laser type
- Applications:
- Cutting: three segments in detail (2D, 3D, tube) plus information subsegments
- Welding: four segments in detail plus information on numerous subsegments
- Other: cladding, hardening, cleaning and ablation
Market Data and Forecast by Units and By Value
- Market data by units
- Market data by value:
- Market data by value is based on clearly specified currency exchange rates
- The impact of the exchange rate shift in 2015 (USDEUR, USDJPY) has been taken into account
Suppliers and Market Shares
- Market shares and information on suppliers
- High power laser revenues for all suppliers with a noteworthy market share
- Profiles of all high power laser suppliers with a noteworthy market share plus for new entrants
- Characterization of high power laser products of the major suppliers
End Markets
- Information on end markets:
- Market breakdown by end industries
- Market breakdown by type of system (machine) the laser is integrated in
- Major clients for high power lasers (system integrators): standard systems, customized systems
- Open and captive markets
Please e-mail us for the table of contents, price and ordering information.
Please see also our report on HIGH POWER LASER SYSTEMS IN MATERIALS PROCESSING