High Power Lasers for Materials Processing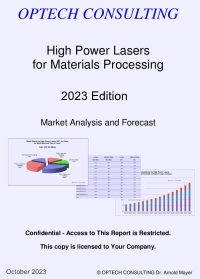 New: 2023 Edition – published October 2023
The Optech Consulting market report
HIGH POWER LASERS FOR MATERIALS PROCESSING – 2022 EDITION
covers the markets for lasers with an average power of 1 kW and above.
Number of pages: 152
Number of market tables: 41
Number of diagrams: 15
Please email us for the information brochure and table of contents.
Contents and Highlights of the 2023 Edition of the Report
Laser types covered: fiber lasers, disk lasers, CO2 lasers, direct diode lasers
Due to the market structure the report is focused on fiber lasers. Together with disk lasers fiber lasers hold a market share of more than 90%. Fiber lasers and disk lasers serve the same applications.
Market data for regular fiber lasers and low-cost fiber lasers presented separately throughout the report, including present markets and forecasts
The price gap between regular and low cost fiber lasers is more than a factor of two. Combining the market data to average values would substantially dilute the information.
Applications covered: flat sheet cutting, tube cutting, 3D cutting, automated welding, handheld welding, surface processes, high power additive manufacturing
Applications trends cutting: lasers take market share from die stamping and plasma cutting
High powered lasers enable thick plate cutting. Decreasing laser cost makes lasers extremely competitive.
Applications trends welding: e-mobility, handheld welding, low cost welding
Laser welding gets wider market traction.
Laser power: The report provides highly segmented data for fiber lasers (by units): 1.0 kW to 1.9 kW, 2.0 kW to 3.9 kW, 4 kW to 5.9 kW, 6 kW to 9.9 kW, 10 kW to 19 kW, 30 kW and above
Total power, units, value, cost / watt, ASP: The report provides a complete set of data for 2020 through 2030 for fiber lasers with units sold, average sales price, sales price per watt, average laser power, total laser power, total units, and total value.
Market analysis and forecast: The report provides highly segmented unit numbers as well as dollar values for all years from 2021 to 2030.
At the time of editing of the report, data for 2022 was available as well as data for the first six months of 2023.
The market data as well as the forecast is provided with detailed cross segmentation by laser type and application for each year (2021 through 2030)
Market shares: highly detailed market shares for all suppliers with a value share of more than 2%, market shares provided separately for the laser types, and separately by units and by value
Profiles for 35 suppliers, including many suppliers in China
Characterization of end markets for high power lasers: major integrators, open and captive markets
The Report HIGH POWER LASERS FOR MATERIALS PROCESSING Offers
Market data with unmet detailedness
More than 40 highly segmented market tables provide extremely detailed quantitative information.
Accurate market data based on data analysis and numerous discussions with market leaders
Market forecasts based on thorough understanding of technologies and applications and long-term experience of the impact of economic cycles
The report provides indispensable information for operative and strategic decision making and M&A analysis.
Please e-mail us for the table of contents, price and ordering information.
Please see also our report on HIGH POWER LASER SYSTEMS IN MATERIALS PROCESSING