Laser Marketplace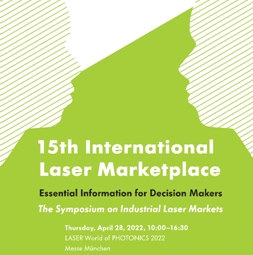 ---
Coming up:
15th International Laser Marketplace – 28 April 2022
The symposium will be weld in conjunction with the Laser World of Photonics 2022 trade fair.
The trade fair and the Marketplace have been postponed from June 2021 to April 2022 due to COVID-19.
---
The INTERNATIONAL LASER MARKETPLACE is an industry symposium on markets and trends in laser materials processing.
Worldwide leading experts discuss global markets as well as new applications and technologies.
The symposium attracts industry professionals including decision makers and senior executives across the laser industry, from component manufacturers to laser manufacturers, system integrators, end users, and investors.
The International Laser Marketplace was founded in 1992. It was first held in conjunction with the Euroblech trade fair in Hanover, Germany.
In 1995 the Marketplace moved to Munich, Germany, and is since held in conjunction with the biennial LASER World of PHOTONICS trade fair.
The Stuttgart Laser Marketplace was repeatedly held in conjunction with the LASYS trade fair in Stuttgart, Germany.
---
Marketplace Seminars